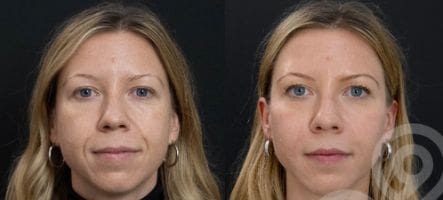 Here at By Design Academy, we champion a holistic, full-face approach to dermal filler treatment and planning. Indeed, it forms the foundation of our flagship Full Face Transformation Masterclass. Read on to find out how and why we champion the full face approach to treatment planning.
Why Full Face?
Patients and practitioners alike are becoming increasingly savvy to 'full face rejuvenation' or 'non-surgical face lift' treatments. Approaching the full face offers several advantages, the most important being that it tackles the multifactorial aetiology of ageing. In other words, focussing on single areas may improve singular symptoms of ageing, but may not address the deeper causes. In these cases, treating a single area may not deliver on your patients' expectations.
A classic example is in the treatment of under eye hollows. Simply applying filler in the tear trough hollow may not always produce the optimal or desired outcome. In many cases, treating the temple area and providing cheek support may produce a more natural and satisfying overall appearance. The same applies to many other areas of the face. 
Casting your eye wider and addressing the various other underlying causes of your patients' aesthetic concerns will help you achieve natural looking yet transformative results. It could also reduce your risk of incurring adverse events and improve your safety…
Safety
Full face transformations often require higher volumes of filler than itemised treatments.  This of course begs the question of safety. Higher volume procedures may be associated with increased risk of complications. However, treating the full face can possibly help you to reduce your risk of complications.
At first this might seem counter intuitive. Of course, when treating the whole face, the total volume of filler used may be dramatically higher than when focussing on a particular area. However, by treating the whole face complex, the total volume of filler applied in any one area will likely be lower. Therefore, you can avoid over administration to any one particular area and reduce the likelihood of adverse events.
Natural looking results
Patients often come to us with the desire to use as little filler as possible. At the same time, they want to achieve transformational results. Understandably, patients often equate undesirable or unnatural looking results to having 'too much filler'. This is in part due to sensational examples of 'botched' filler results in various media forms. Likewise, the presence of aggressive advertising campaigns selling a particular look or filler volume.
However, treating the full face conservatively can produce a far more natural look than the characterised appearance of over-treating single areas. When we respect the dynamic and interconnected nature of facial structures, we can balance filler placement to get maximal aesthetic impact without distortion and unnatural contours. Likewise, and as previously mentioned, although total filler volume may be higher for full face treatments, the volumes administered to any one will often be less.
As always, the proof is in the pudding. So let's take a look a look at some of our Full Face Transformation case studies…
Case Studies
Case study 1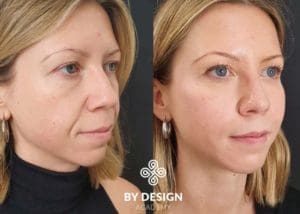 This patient felt that she looked tired and older than she should. She wanted to feel fresher without losing her unique character. A total of volume of 9.6ml HA fillers of varying viscosity were used in a multi plane approach to achieve a transformational result whilst preserving her natural character. Areas of treatment included deep and superficial midface, nose, perioral, chin, pyriform space and nasolabial folds using our bespoke treatment methods.
Case study 2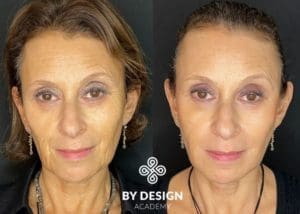 This patient had lost a significant amount of weight and felt that she had aged dramatically over the past 5 years. She wanted to feel like her old self but didn't want treatments that would appear 'fake' or take away from her unique character. She was thrilled with the outcome which she felt had 'turned the clock back 10 years'. 6ml of filler was used in a multi plane approach with a variety of filler viscosities. The areas treated included temples, midface, nasolabial folds, marionettes, dynamic discord lines and fine static wrinkles.
How to perform full face procedures
As you can see, from patient safety to breath-taking aesthetic outcomes, there are multiple benefits to full face treatment planning. Having the skill to plan, treat and deliver full face transformations for your patients can take your aesthetics career to a whole new level. Ready to level up? Why not join us on our Full Face Transformation Masterclass and become part of an ever growing community of advanced practitioners, helping lead the way in ethical, safe, natural looking, yet transformational results!